Interferometry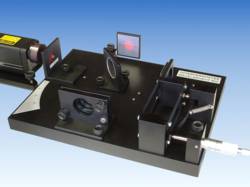 Michelson Interferometer

Interference Pattern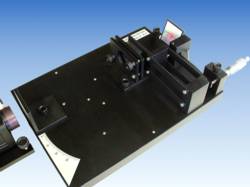 Fabry-Perot Interferometer
Precision Interferometer, 650265:
Time for preparing an experiment is very short: The adjusted Interferometer can be stored in the solidly built box. For an experiment only the micrometer has to be swang out and a He-Ne-laser has to be placed in front of the divergence lens.
Due to given component positions the assembly for all experiments can be done easily.
Due to the reflecting screen the experiments can be carried out at daylight (no direct solar radiation).
Experiments (a He-Ne-laser is necessary in addition):
Michelson interferometer
Fabry-Perot interferometer
Estimation of the refraction index of glass 1
Estimation of the refraction index of air 1, 2
Twyman-Green test of optical components (qualitatively) 1
1 with Accessory Kit, 650266: vacuum cell and a glass plate mounted on a rotating holder
2 simple vacuum pump necessary
Features:
Heavy (5,5 kg), rigid (thickness 25 mm) and large (245 mm x 330 mm) base made of black anodized aluminium.
Large optical components: beam-splitter diameter = 40 mm, mirrors = 40 mm x 40 mm.
precision beam splitter: flat to 1/10 wavelength (frontside) and 1/4 wavelength (rearside).
User friendly mirror movement due to an eccentric gear control. One division mark at the micrometer corresponds to a mirror movement of roughly 10 nm. The exact ratio is signed individually on each interferometer. With the given ratio the wavelength measurements are exact to at least ±5%.
Instruction sheet including examples and physical background: Interferometer-en.pdf (511 kB)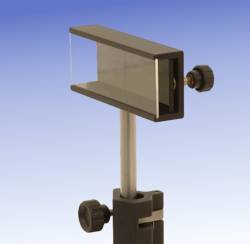 Fresnel Mirrors, 650272:
dimensions of both mirrors: 29 mm x 95 mm
shaft made of stainless steel, 10 mm diameter
holder is made of black anodized aluminium
height of the mirror centre over shaft end = 150 mm (standard height)
regulating range approx. -0,5° to +2°
mirror protection made of acrylic glass
Instruction sheet including examples and physical background: Fresnel-Mirror.pdf (130 kB)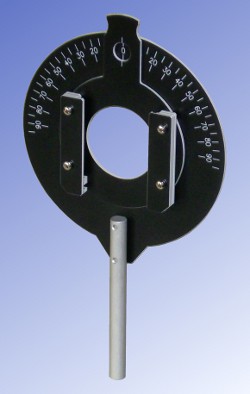 Slide Holder, rotatable, 650317:
for positioning standard slides (50 mm x 50 mm, max. 4 mm thick) in the optical axis
height of the slide centre over shaft end = 150 mm (standard height)
rotating range -90° to +90°, scale division in 5° steps
screen diameter = 130 mm, hole = 44 mm
shaft diameter = 10 mm
a slide with a thickness of 3 mm is exactly above the middle of the shaft